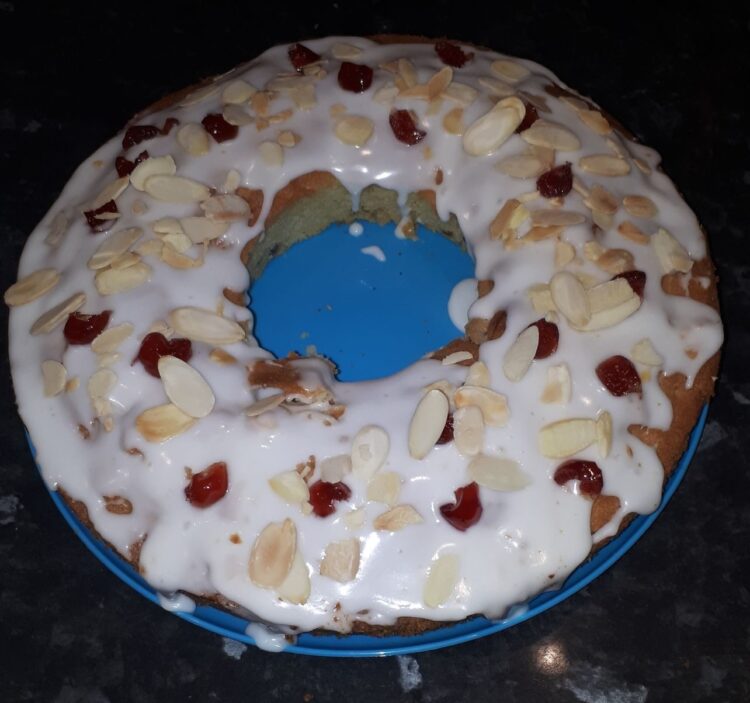 Series 5, Episode 1, Cherry Cake
Series 5 was the first series I watched live. During this series was when I first decided that I wanted to try and bake all of the technical challenges, however, it was several years later that I actually started.
A new series starts off with some easy bakes, so I'm looking forward to being able to crack on with these without having to worry about weird and wonderful ingredients. Here's the link to the recipe I used: https://www.bbc.co.uk/food/recipes/marys_cherry_cake_17869
I didn't have a bundt tin to use for this recipe. I considered going and buying one but in the end decided to just use a 9 inch cake tin and put a ramekin in the middle to make a hole – I could worry about getting it out later.
The cake batter was a straightforward all in one method before folding in the quartered flour coated cherries. It was quite a thick batter so I wasn't worried about it leaking under the ramekin. Here it is ready to go into the oven: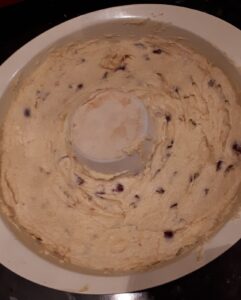 The cherries were pretty evenly distributed, though I felt like it could have maybe done with a few more, but I shouldn't question Queen Mary's expertise.
The cake came out of the tin pretty easily, though then it broke in half. Here's a photo where I've tried to make it look whole: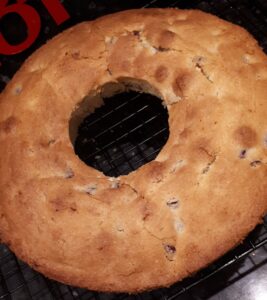 Because it had broken, I managed to get a sneak peek inside to check the distribution of cherries. They hadn't all sunk to the bottom! It looked a little flatter than the one in the photo, but I put that down to being in the wrong sort of tin.
I made the icing according to the instructions. Now that I've followed quite a few of Mary Berry's recipes, I wasn't surprised to see that there was an excess of the icing (I don't know what she does with it all). I just slapped it all on and didn't bother with the delicate drizzle that she did: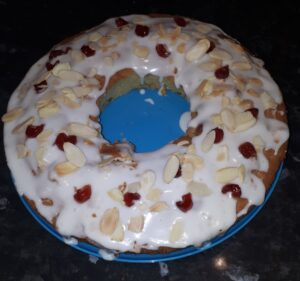 I liked that there was a bit of drizzly icing down the sides and the cherries added a pretty colour. I toasted the almonds in a pan for a couple of minutes because I'm pretty sure they weren't already toasted. I love the smell of almonds toasting (and the taste). Here's a photo of a slice as proof that the cherries didn't all sink to the bottom: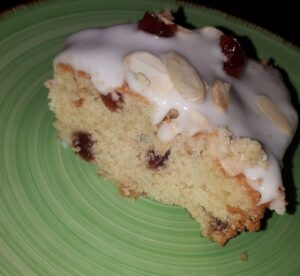 I thought the cake was really good, though the icing was maybe a little bit too sweet. Everyone who tried it said that they liked it, but that's because people are polite. It was starting to go a little bit dry on day 2 though. I'll definitely make this cake again, maybe with less icing next time.
Lily