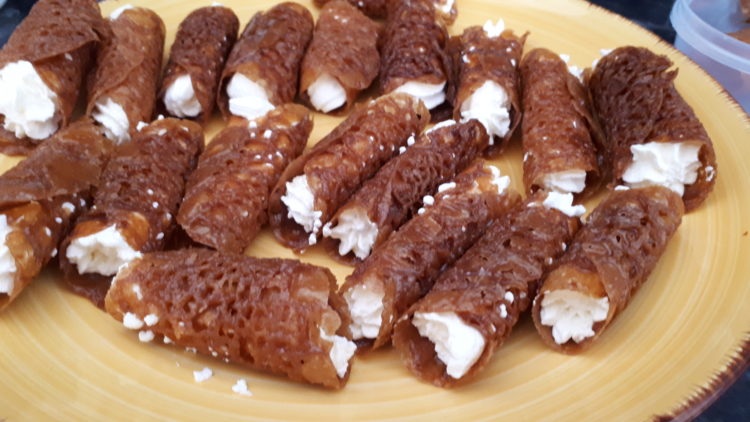 Series 2, Episode 4, Brandy Snaps
I have made brandy snaps before and didn't find them too troubling so I was quite excited about making these. I think an alternative name for this could be "burning circles of torture".
The bakers were challenged to make 24 brandy snaps filled with whipped cream in 1 hour and 30 minutes. The recipe I used was from the bbc website and was quoted to be from the GBBO, but this recipe was for 16 brandy snaps. I decided to go with it anyway and ended up having enough for exactly 24 so I suppose it just depends on how big you make them. Here is the recipe: https://www.bbc.co.uk/food/recipes/brandy_snaps_47363
The mixture is pretty easy to make, you just need to be patient and keep it on a low heat. When this was finished I messily dolloped 4 teaspoons onto a baking sheet.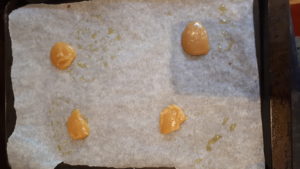 I think it's easier to make these tidy when the mixture has cooled a bit. I had 2 baking sheets so generally had 8 on the go at the same time. After the first few batches I worked out that they needed 10 minutes each, so left a 5 minute gap between the batches so that I only needed to roll 4 at a time.
Here are the cooked snaps before rolling (I'm pretty sure they're not the same as the photo above):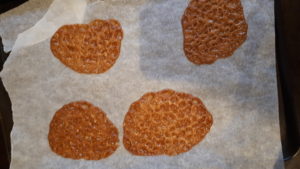 As you can see I've gone for the informal approach and I have a very good reason for this. There's only a small window when they're easiest to roll, I've purposely kept them different sizes so that the smaller ones cooled down faster and I can roll these first, by then the next one will be ready and the largest one won't have started to go too hard by the time I get to it. Ok, I didn't do that on purpose but it definitely helped.
I made all 24 brandy snaps within an hour. I didn't want to fill them straight away as I was worried they'd go soft with the cream inside so I waited until just before eating them before whipping some double cream and filling them using a piping bag. I didn't fill all of them either because there were only 4 of us so I didn't think we'd eat them all straight away. The next day the filled ones which hadn't been eaten HAD gone soft, so I was pleased I waited.
Immediately after filling them however, the brandy snaps had a great snap to them and tasted delicious. They still actually tasted pretty good the next day even though the filled ones were soft. I completely failed to have them all looking consistent, but that's ok because I'm not being judged in a baking competition.
Next time I will be making pork pies! I've never made a hot water crust pastry before so I'm looking forward to the challenge.
Lily