Series 2, Episode 5, Pork Pies
Paul Hollywood's mini pork pies with quails' eggs recipe https://www.bbc.co.uk/food/recipes/small_pork_pies_with_11074
This post will be a guideline of how NOT to make pork pies. You have been warned.
I thought the most difficult part of this challenge would be to find quails' eggs but I was wrong. I found some in Waitrose and in a farm shop local to me. When I bought the pork loin the butcher thought I was a bit odd for asking for 350 g of pork loin, telling him it was for a pork pie and that no thank you, I don't want you to cut it up for me (the bakers had to cut the pork into small pieces so I wanted to do this too). It was time consuming but easy to cut the pork and bacon into small pieces, I did this as part of my preparation.
I've never made hot water crust pastry before so wasn't sure what to expect. I don't remember ever using lard for anything in my life but when melting this it smelt absolutely awful, I was worried it would be noticeable when eating the pastry (it wasn't). I started rolling the pastry, then read that I needed to cut 6 x 15 cm circles and 6 x 10 cm circles out of it. I don't know about you but I absolutely do not have the space to roll the whole thing out at once. I decided to divide the pastry into 6 and cut 1 circle of each size out of each bit. This meant there was a lot of pastry left so I think all the other ones were rolled too thin. I had trouble getting the pastry circles to the muffin tin because they were stretching quite a lot. All of these contributed to the pie pastry being very thin and delicate.
I rarely eat hard boiled eggs so I'm not great at peeling them. Quail eggs are small and delicate and very easily ripped when peeling! I managed to get 6 ones out of 9 that I boiled and quail egg shell all over my kitchen. By this point I was getting tired and just wanted to get my pork pies in the oven, this meant that the assembly process was rushed, lazy and informal looking. The crimping was messily attempted, please keep in mind that the pastry had stiffened quite a lot here. Also there wasn't much space between pies so it was quite fiddly. I wasn't sure whether I should have egg washed this pastry as I've never made it before, the recipe didn't say to so I didn't bother but I looked at other recipes afterwards and most of them say to do so, so I was slightly annoyed about that. Here's a photo of the pork pies after I'd put them in the oven, realised I'd forgotten to take a photo and took them out again.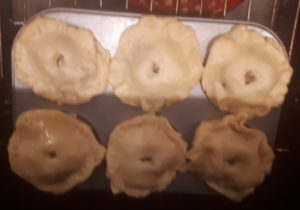 Now I had all this leftover pastry and a lot of leftover filling! So I made this creation, a hand raised open pork pie: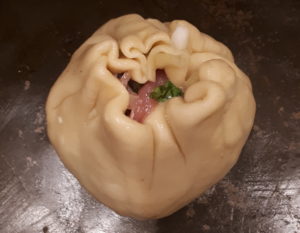 After baking I tried to take the mini pies out of the muffin tin. I managed to get 1 out without it breaking. For this reason I decided not to add the jelly, I didn't want it to leak out everywhere! Maybe I should have added the jelly before taking the pies out of the tins? Paul Hollywood doesn't say…
Here are my finished pies!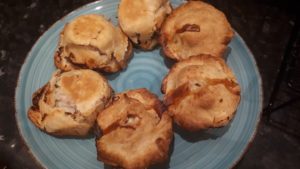 You may have noticed some of them are upside down… this was so that they would stand up properly! Here's one cut in half: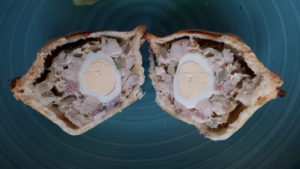 The meat isn't quite all the way to the edge, I like to think that the jelly would have saved this but maybe I'm living in a dream world. Here you can see how thin the pastry is. I quite like a thick crust on a pork pie but I think how thin this was contributed to them all breaking.
Here's my open pork pie creation: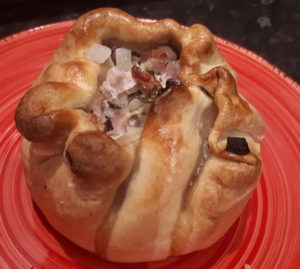 I think this one looks better! They all tasted pretty good, I had 1 bad review from someone who doesn't like onions so that doesn't count.
Let me know if you've had better success with pork pies! I think maybe the traditional method is traditional for a reason, not that I'm criticising Paul Hollywood's methods of course.
Hopefully I'll have better luck with the chocolate roulade next time!
Lily x