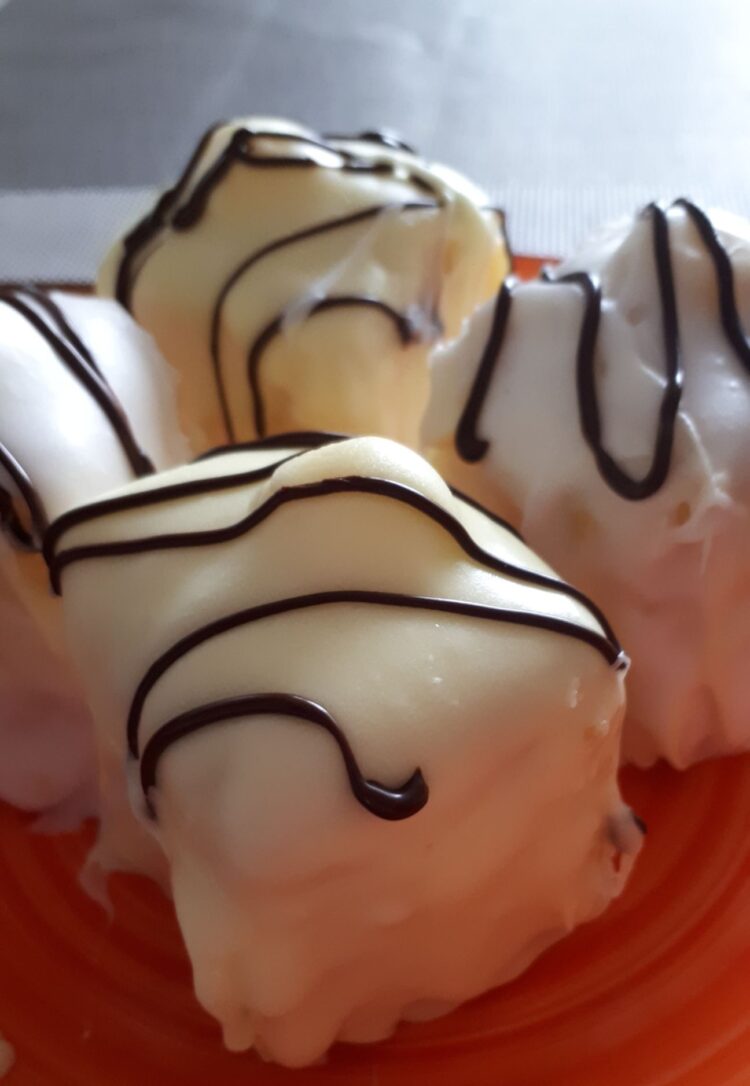 Series 3, Episode 10, Fondant Fancies
These fondant fancies were the final technical challenge for series 3, which means I've completed another series. I hope you're proud of me.
Here's Mary Berry's recipe for these: https://www.bbc.co.uk/food/recipes/fondant_fancies_88368
I'd been watching the episodes before doing most of my bakes, I know it's a bit cheaty but I'm actually buying these ingredients and want something edible by the end. Anyway, the GBBO has been taken off Netflix so I haven't been able to watch the last few. It's a bit frustrating but I'll carry on anyway because I can.
Initially I thought these looked a bit easy for the final so wasn't too worried about these. I suspected that the decoration would be my downfall. The cake was an ordinary sponge cake using the all in one method, so that was the easy bit. Here's the cake before being baked.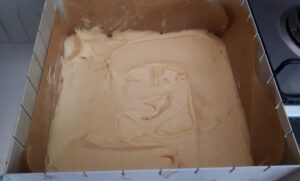 After baking I considered levelling off the top so that all of the cakes would be the same height, but I don't like waste so I decided they'd be informal looking. Here's how it looked after I'd put the marzipan on and scored where I was going to cut: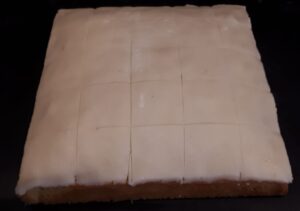 After cutting I put the buttercream onto the sides. This was a bit fiddly at first but I got myself into a bit of a routine and was a bit of a pro by the end. Some of the buttercream had to be put into the fridge while in the piping bag, but this made it really difficult to pipe and made the blobs a bit irregular. Here's a photo: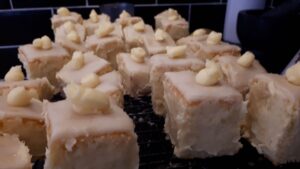 In true Mary Berry style, there was plenty of buttercream leftover I didn't know what to do with….
I thought making the fondant was a bit odd and I was a bit worried it would break my mixer but it didn't. I split the fondant in half, added a bit of yellow food colouring to one and flavoured it with the lemon juice I had after using lemon zest in the cake. The other half I left white and added vanilla flavouring. This is where things started to get difficult. The recipe suggests putting the cake on a fork and dipping it into the fondant. When I tried this and the cake broke, I was so disappointed but soldiered on and broke the next one too. Also a LOT of the icing stuck to the cake using this method. I added a bit more water and it made it slightly easier, but I still struggled a bit. I had LOADS left at the end, I was worried that I hadn't made the icing thick enough on them but they looked fine to me. Here they are all coated in icing, sticky and unattractive: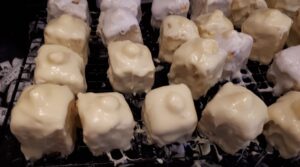 I left them to "set" (they didn't set), and tried to make them pretty with chocolate: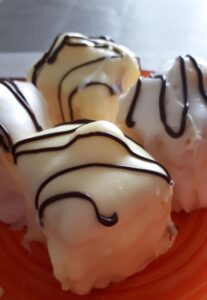 They didn't look so bad on their own! I had to eat them with a fork because the fondant icing just didn't set. I'm not sure whether I should have left them to dry in the air for a bit longer before putting them in a box but I was worried the sponge would go dry.
Anyway, I was pleased to be able to take a couple round to my Nan, they're her favourite so I've known she'd be having some of these as soon as I knew I'd be baking them.
Here are what people said about them:
"These are better than Mr. Kiplings"
"Those cakes were f***ing fancy, excuse my French"
"They were lovely"
I think technically, these weren't so difficult to make, however, decorating them took a really long time. It might be because I'm really slow, but the recipe estimated 2 hours, whereas I think I took 1 hour just getting the fondant on. Also there was so much waste! I don't think I'll be making these again in a hurry, even though they were tasty.
Lily