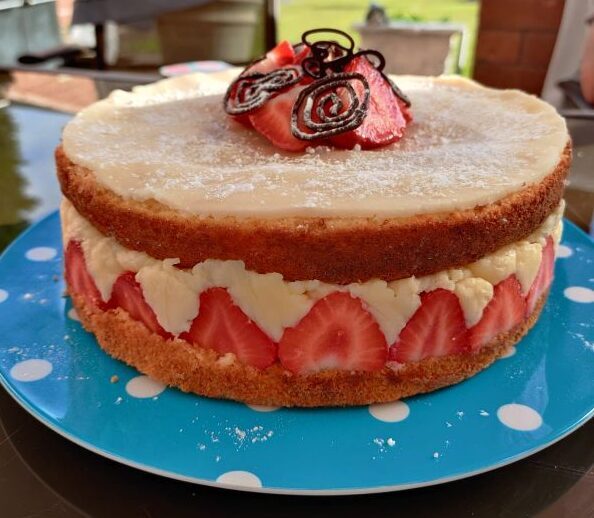 Series 3, Episode 9, Fraisier Cake
This recipe has 34 steps, I think that's the most steps I've ever followed in a recipe ever. Here it is: https://www.bbc.co.uk/food/recipes/fraisier_cake_75507
First of all, I needed to make a genoise sponge, which I'd never made before. It seemed to be quite easy, but as I was pouring the batter into the cake tin, I noticed a few lumps of flour. I think I managed to get rid of all of them, but the cake turned out looking good in the end.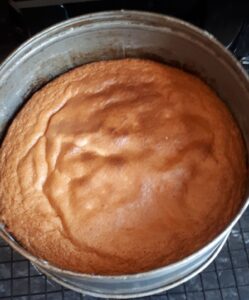 I should have taken a photo of the cake out of the tin afterwards, but I had 34 steps to cover! I kept forgetting to take photos! Nice flat top though.
I don't know whether the crème pâtissière turned out how it was supposed to, it got a bit lumpy at one point but I managed to beat those lumps out! It got really thick and custardy so I decided that's how it was supposed to be.
Cutting the cake horizontally was a bit of a challenge, I can never get that very neat. I used clingfilm to line the cake tin ready to assemble because I don't have acetate plastic and didn't want to buy it especially for this, the clingfilm worked fine though.
I then made the lemon syrup, I don't have much to say about that, it was just lemony and syrupy.
Here's the cake with the strawberries making a pretty crown: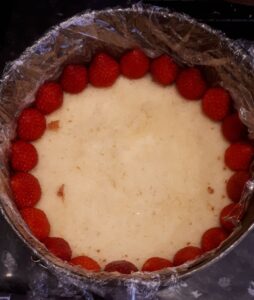 Then the crème pâtissière and the strawberries went in the middle: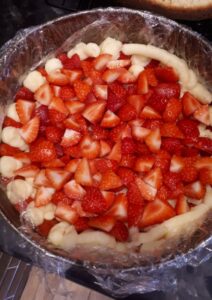 The crème pâtissière was difficult to pipe, I think it was a little bit too thick. I took my time with it though and got most of it in, I had a little bit left over, that might have been because my cake tin was slightly too small that what the recipe called for.
I made a little piping bag out of baking paper to pipe spirals of chocolate ready for the top and rolled out the marzipan to go on top.
There are no more assembly photos, here's the finished fraisier cake: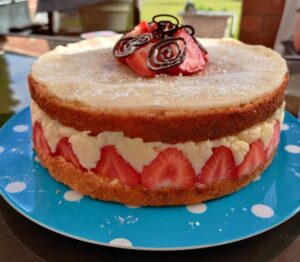 Look how pretty it is! The crème pâtissière looks a bit odd because when it's just stayed the shape it was piped in probably because it was so thick, but it still tasted good.
Here's what people said about my cake:
"Delicious"
"Most instagrammable cake you've ever made"
"This is the best cake I've ever tasted, this is what I want for Christmas"
This took several hours to complete and took a lot of work, organisation and washing up. Overall though, it tasted delicious and I think was worth the effort. I'd recommend giving this a go for a special occasion.
Lily