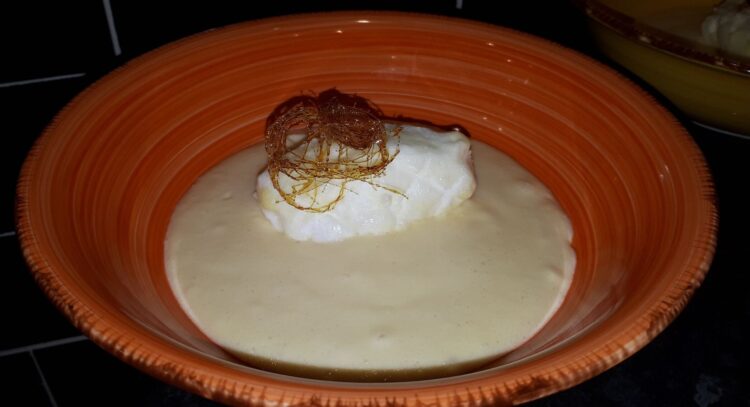 Series 4, Episode 3, Floating Islands
I managed to make these a few weeks ago before increased local lockdown rules kicked in. I've been slow to update though.
Here's the recipe https://www.bbc.co.uk/food/recipes/floating_islands_with_03517
I was excited to make these because I was looking forward to giving the spun caramel a go. It was a bit of a last minute decision to make these, I'd had the ingredients ready and had some friends coming over so just went for it in a bit of a rush. I'd never tried them before but I like meringue so was hoping for the best
The meringues use six egg whites. I felt like this was quite a lot so was prepared to have a lot of excess, but nothing could have prepared me for what happened. Here's my meringue mountain:
Initially I thought that I should weigh the meringue and take one sixth out to make my first quenelle, thinking that I was clever for dividing it equally. I very quickly realised that this was a mistake, as I'd need to use giant mixing spoons to shape these rather than two tablespoons. I tried with as large pieces as I could though, and ended up with 6 eggy messes. I still had enough egg white to make 6 normal sized quenelles though, which turned out a bit neater. Here they are before cooking: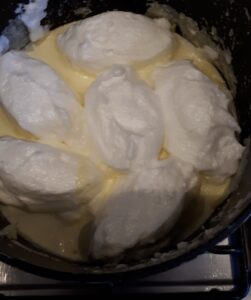 I wasn't entirely sure how to check that these were cooked properly, since I had no idea what they were supposed to look or feel like. I just left them for the length of time the recipe said to leave them for.
The crème anglaise was pretty straight forward, no lumps there. When it came to making the caramel I had a bit of a disaster. I believe that there has to be an even temperature over the whole of the saucepan and I don't really think my hob is great for that. The first attempt just burnt on the edges before all of the sugar was dissolved.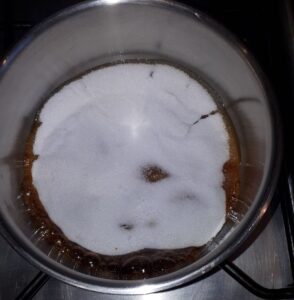 I managed to get a couple of nest-like caramel bits together in the end, but I definitely (still) need more practice with caramel.
Here's the finished product all served up:
Overall, I think that these were a bit odd. They had a good flavour to them but the meringue texture was a bit foamy. The added crunch from the caramel improved it, but I think I'm a bit suspicious of cold custard-like foods too anyway. Feedback was positive from my taste testers, I'm sure they had some wise words to say but it has been too long now and I've forgotten. Overall, I don't think I'd bother making these again, there are nicer ways of making meringue.
Lily