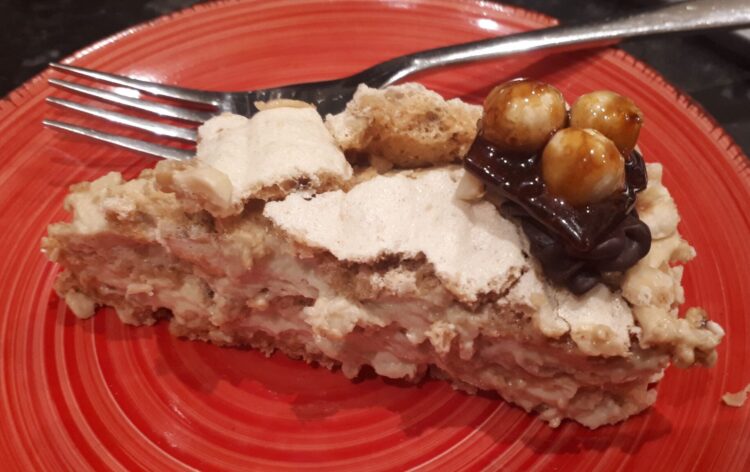 Series 4, Episode 8, Hazelnut Dacquoise
I've done a terrible job of updating my blog this year. I'm slightly ashamed to admit that I baked this hazelnut dacquoise about 11 months ago so this will be a bit of a random collection of vague memories and some photos. I'll do better in my next few posts, I promise.
Recipe link is right at the top of the post as usualy so you don't have to read my babbling if you don't want to: https://www.bbc.co.uk/food/recipes/hazelnut_dacquoise_98875
The meringue was easy enough to make, it was just a bit of an odd texture because of the hazelnuts in. I also had quite a bit left over, which I just piped and baked anyway. Here's a photo: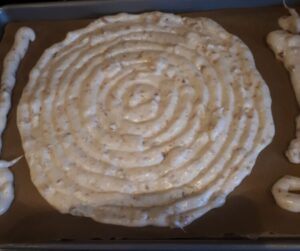 The instructions for the coffee custard were clear and my custard turned out the correct consistency. Here it is cooling with cling film over the top of it: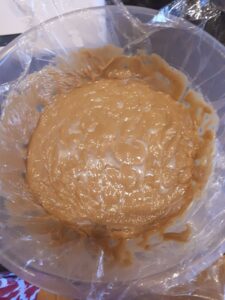 Caramel is something which I still have not managed to succeed in. I made it too dark and it was difficult to handle. I threw some hazelnuts around in it anyway and managed to get some clusters of 3 as seen in this photo: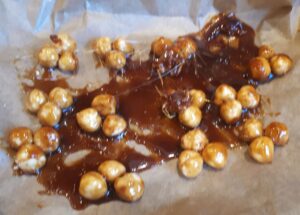 Assembling the dacquoise didn't cause any issues. It was a bit fiddly getting the hazelnuts to stick to the sides – I just ended up throwing them on ungracefully. They managed to stick though.
I'd left the chocolate ganache to cool, as instructed. However, when I came to pipe it, it became clear that I'd left it to cool for too long. It was too difficult to pipe and I ended up having a mini chocolate ganache explosion that landed on top of the meringue. I tried to wipe it off but didn't really manage to. I kept this bit in shadow when taking the final photo: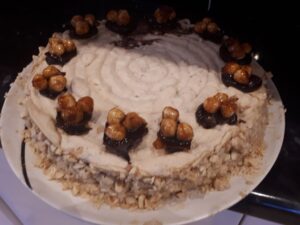 Here's a prettier photo of one of the slices to make me feel better about how it looked:
This was absolutely delicious. The chocolate and hazelnut worked really well together, the coffee wasn't too overpowering, the caramel didn't taste too burnt, I was really pleased. It was a lot of effort but definitely worth it. I had positive comments about it too, including that it tasted like a version of ferrero rocher and one person told me they now had a problem because they couldn't decide whether this or the frasier cake was the best thing over.
All this talk of it has made me want to make it again. If I do I'll put it on my instagram anyway.
Lily