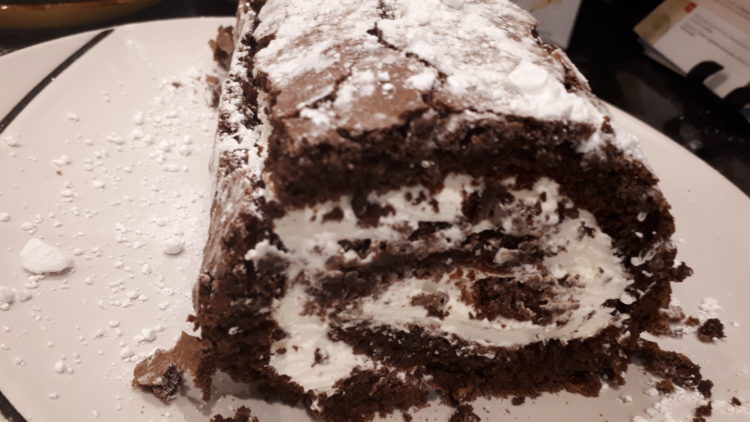 Series 2, Episode 6, Chocolate Roulade
Mary Berry's chocolate roulade recipe: https://www.bbc.co.uk/food/recipes/chocolate_roulade_79152
I make a chocolate log every year for Christmas, so had an optimistic outlook on the outcome of this roulade. The recipe is slightly different (I usually use Nigella Lawson's), but the methods are very similar.
There's not a lot to say about this recipe. It's very clearly described so I just followed the instructions. I even melted the chocolate over a pan of boiling water rather than in the microwave like I usually do! I held my whisked egg whites over my boyfriend's head to make sure they were stiff enough (they were) and just made sure I was careful and gentle when folding everything in.
Here's what it looked like shortly after it came out of the oven: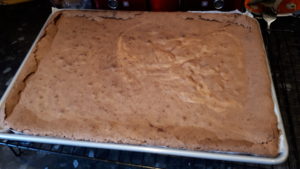 I had a little bit of disappointment because it had sunk, but then looked at the recipe where it said it was supposed to do that! I was so pleased 🙂
When I rolled it up there was a bit of a crack, but again, MB said that was fine, she knows how to make me feel confident with my baking: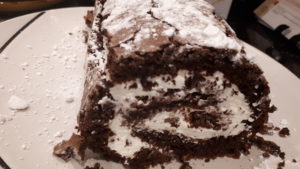 There it is all swirly. A little bit flat at the bottom but I still say it's a roulade. Here's a slice on a plate: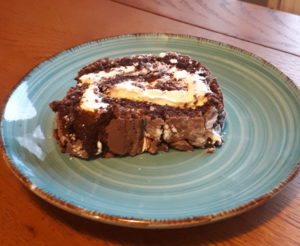 So the people who I feed my bakes to know that I put it in a blog now so give me quotes especially.
"It's just the right amount of sweet, not too sweet, not too salty, just the right amount of sweet"
"The cake to cream ratio is perfect"
"The best cake I've ever eaten"
"That cake was delicious, did you make it?"
I recommend that you bake this cake, it took about an hour to prepare and bake, around 20 mins to cool down and then 5 mins to whip the cream and roll it up. I was going to put a live Instagram video of me rolling it but got too shy, is this something people would be interested in? Lily bakes under the pressure of live Instagram? Let me know.
Lily x
https://www.instagram.com/lilylilysparks/